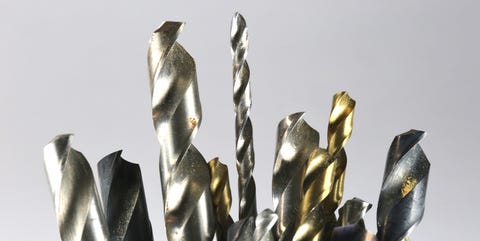 Getty ImagesDouglas Sacha
A great drill and set of tools are nothing without a quality set of bits – but somehow you're always losing them. As you replace and refresh your collection, choose wisely.
Just in case you've been on the hunt for new bits and want some that are reliable and high quality, these nine won't disappoint.
Best for DIYers: Ryobi A98901G 90-Piece
Ryobi
amazon.com
$29.97
This light-duty 90-piece drill and driving set from Ryobi has just about everything a homeowner would need for almost every drilling situation. If you are looking for a do-it-all kit for chores around the house, this is the one.
Advertisement – Continue Reading Below
Best Value: Black+Decker BDA91109 109-Piece Set
BLACK+DECKER
amazon.com
$16.99
This monster set from Black+Decker offers the most value when it comes to drilling and driving. Don't expect these bits to do anything more than the occasional DIY job, but at under $20, the price can't be beat.
Advertisement – Continue Reading Below
For Drilling Metal: Irwin Tools 3018002 Cobalt M-35
Irwin Tools
amazon.com
$89.98
This full set of Irwin cobalt bits are all you need to cover your metal-drilling needs. The durable case protects your bits, and the holders are easy to access.
Advertisement – Continue Reading Below
The Pro's Hex Set: Makita T-01725 70-Piece
Makita
amazon.com
$24.99
This set of hex-shank bits offers a bit of everything. The 70-piece combo has bits that cover heavy-duty drilling, driving, and even a couple spade bits for boring large holes.
Advertisement – Continue Reading Below
Impact Ready: Dewalt DWA2T35IR 35-Piece
DEWALT
amazon.com
$26.99
This hex-shank kit of driving bits is designed to flex up to 15 degrees to prevent breakage. The included magnetic screw lock attachment helps minimize screw drops and reduces wobbling, resulting in a straighter drive.
Advertisement – Continue Reading Below
Best for Masonry: Bosch 7-Piece Carbide-Tipped
Bosch
amazon.com
$26.37
Carbide-tipped blades are specifically designed to drill into masonry, which includes brick and cement. Pair these bits with a hammer or rotary hammer drill and you'll bore holes into the toughest materials all day long.
Advertisement – Continue Reading Below
Made in USA: Norseman Drill Bits
Norseman
amazon.com
$84.60
These made-in-America drill bits should last a lifetime if well cared for. The precision ground point and flutes offer unmatched accuracy. 
Advertisement – Continue Reading Below
Long-Lasting: Milwaukee 48-89-4631 Kit Tin Shockwave 23-Piece
Milwaukee
amazon.com
$26.97
This 23-piece drill bit kit should cover all of your drilling needs. The hex-shank bits can be used with impact drivers or standard drills, and the titanium nitride (TiN) coating can be used in all drilling applications. Milwaukee claims up to three times the lifespan compared to black oxide drill bits. 
Advertisement – Continue Reading Below
Best Hex Bit Set: Wiha 76893
Wiha
amazon.com
$20.54
Wiha has been making professional-grade hand tools for more than 70 years, so rest assured this compact hex bit set is ready for your DIY job. It's available with a handy magnetic holder, which makes swapping out bits much easier.
Advertisement – Continue Reading Below